Before there was the downtown hipster scene, one place had opened it's doors for business. PS 14 was one of the first places to cater to the alternative hipster scene. Their niche was seeing as a fresh breath of air to Miami which was basically all about models and bottles and oddly enough; Miami continues to try and hang on to that as exemplified by an article written about South Beach nightlife on Miami.com; "If we made you buy four bottles, and you're only four people, you can bet we didn't want you there, " says longtime party promoter Tommy Pooch, who, with partner Alan Roth, is behind jam-packed Tuesday nights at the Delano and Sundays at the Shore Club. "You're probably ugly. We were hoping you would just leave. But you were so desperate to get in, you agreed to the four bottles, and now we're stuck with you."
Has the time for Miami to move on, grow up and make a new era for itself? Some think so, yet others don't and only time will tell. I for one would love to see a revitalization of a new Miami era and be done with that 90′s Miami that is so passe.
Many PS 14 regulars came out to enjoy $2 beers, skee ball,  pool, ping pong, BBQ, and girls in bikinis. To put closure to an era, the musical conductors of the night included Oly, Stravindky, Contra, Salami Fingers, and a few others. Farewell PS14 and thank you for the many great times.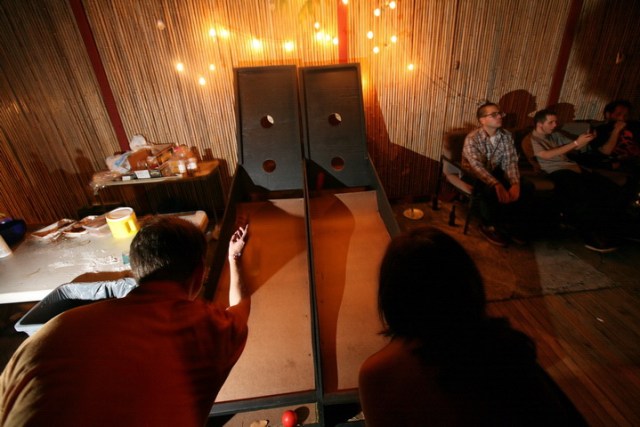 click on image for photo gallery